A promising future : The necessity of underground water development
The water found in rivers and lakes only makes up 3% of the available water on land. The remaining 97% is found underground and is largely unutilized by society, even though it is some the cleanest ( that is the least polluted ) water, found on earth.
This underground water is largely unaffected by climate change throughout the season, even during the cold winter months, when outside temperatures fall well below freezing. The construction cost of a well/bore is quite inexpensive when comparing it to the costs of connecting to the local water mains, and the having to pay the ever increasing monthly water rates. Using underground water is preferable environmentally, to daming and flooding limited arable land.

Wells can be located so they can provide apart from fresh clean drinking water, water for commercial purposes such as irrigation for lawns, water for pools, water fountains, melting of snow on driveways, roofs, and around buildings during the long winter months, etc..
Recently, there is increasing pollution of the sea and rivers through factory waste emissions, bad land management, and erosion problems associated with the building of dams, runoff dams in remote mountain gullies, and roads to access these areas. By using underground water you can help look after your environment whilst utilizing a clean and reliable resource.
Underground Hot Springs are the energy of the 21st Century.
Now, our lives are supported by fossil fuel such as coal and petroleum. But  experts agree there is a limit even in these resources. Hokkaido, as part of Japan, is very fortunate with respect to underground water supplies, being a volcanic country, with all four sides surrounded by the sea, and 80% of its land area made up of a water resource rich mountain range archipelago. As part of these water supplies, utilization of the volcanic water as an energy alternative, and hot spring(onsen) water is widespread throughout the country.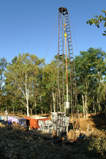 Utilization of hot spring(onsen) water is continuing to increase with more and more public baths houses( commonly referred to as, "Onsens") appearing in and around tourist destinations such as Niseko. Apart from, providing a means to relax, in indoor and outdoor baths, after a hard day of skiing/snowboarding, Onsens, also offer some unique remedial advantages for persons with injuries, skin problems, because of the temperature of the water and mineral content. It is thus, used widely in the area of rehabilitation in nursing homes, athletic facilities, hospitals, and hotels, but even increasingly uses in baths in luxury holiday homes. Just imagine yourself, lying back in an outdoor onsen bath after a hard day skiing, quenching your thirst with a well desired beverage, whilst feather like snow falls slowly around you.