It is very difficult to find affordable medium to long term rental accommodation with Niseko Hirafu Ski Village during the months of winter. Most accommodations are catering for short term holiday lettings.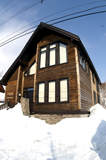 While during the summer months, Niseko and the surrounding area is becoming more and more popular among people wishing to escape the tropical heat and humidity found further south in Japan and the south-east Asia, with medium term rentals of one to several months increasing.
What ever you rental desire is, it is advised to enquire early as possible, to avoid disappointment.
Contact NRS to discuss your needs and check our rental accommodation availability.